Playbill Design
---
Ajkun Ballet Theatre's production 2022 Spring Season brought dancers and artists back to their beloved stage with a new, elegant playbill design to go along with their superb ballet performances.

The new playbill's cover is paired with a neat layout design that contextualizes the storyline of the shows– Don Quixote and Anna Karenina, to the audience, dancers and artists' credit, and company information.
︎︎︎
Printed with @4OVER4.com
2022,
Ajkun Ballet Theatre
SPA Menu Design
---
Elysium cherishes the importance of self-care by treating the heart and mind through the body.
We created a visual strategy that evokes
peace and relaxation. For a place that offers a wide variety of
ritual massages, SPA experiences, facial treatments, and much more – we recreate an intimate and relaxing brand identity SPA is in the heart of Mantova's historic center.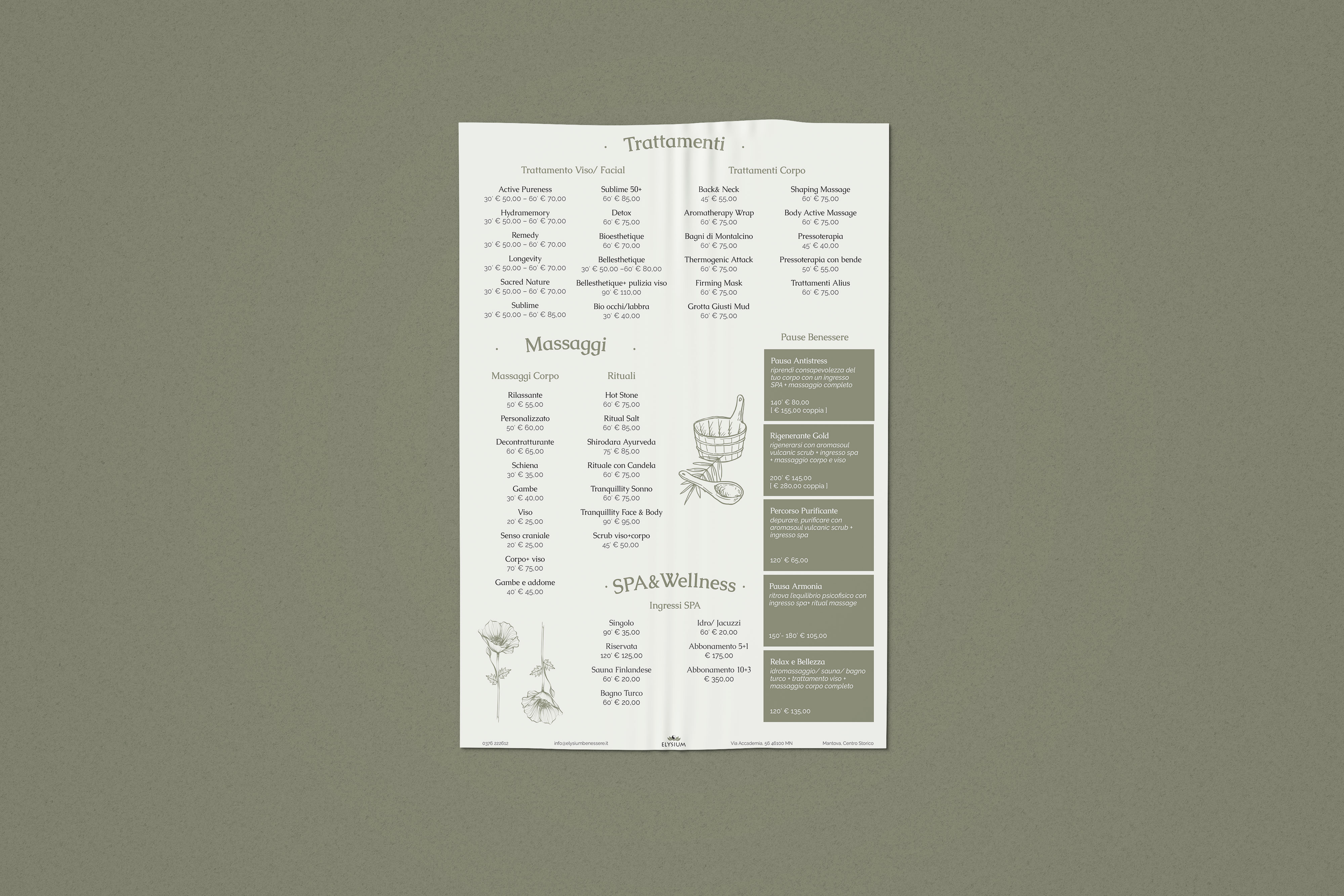 Digital Design Campaigns
---
Elysium is an oasis of peace and relaxation located in the heart of Mantova (Italy), a charming small renaissance town located in the northern part of Italy. They are known for recreating an intimate and relaxing SPA program which includes a sauna, Turkish bath, emotional shower, etc.
Novellini "World of Wellness" book
---
When the pandemic happened, Novellini Group needed a way to replace in-person company visits: a 4-hour tour throughout all the departments that transform raw materials into the finished product, passing through the aluminum foundry, the glass factory, coating, assembly, and finally packaging. This publication embraces 50 years of activity and honors the perpetual growth of this successful family-owned business. Novellini Group successfully achieved research, development, creative design, and international recognition thanks to their faith in the Made in Italy added value.

The book, designed with an original photography shot in the production area of Mantova's headquarters, illustrates the company's highlights and a deep description of the attentive production process of a bathtub/ shower from raw material to the finished product.